Read on for a final donation tally and an update on what's coming next year!
We just wanted to say "Thanks!" to everyone who helped make this Christmas season so great. Whether you sent us a nice note or just waved as you saw us coming or going, we appreciate all the positive feedback. We also apologize for not getting back to everyone… There was simply too much to keep up!
The grand total collected for the Wilton Food Pantry as of 10 PM on January 6th was $1,165.39 which is the equivalent of ~7284 lbs of food at the discount price the Food Pantry gets from the Good Shepard Food Bank in Auburn. We'll be bringing all of your checks and another check for the cash and online donations to Kitty McDonald (the Food Pantry Administrator) later this week. Thanks go out to everyone for your contributions, but a special thanks to the 3 angels who each contributed $100.00, and another special thanks to all those who wanted to give so badly that it came down to pennies. It all helps the cause and goes a long way. In fact, the coin donations alone were enough to buy more than 50 lbs of food for families in need. Way to go!
And just to answer what is by far the most common question we get – Yes we plan to set the display up again next year. In fact, we've already started editing new music tracks and stocking up on new lights (despite the low quantities available in after Christmas sales, we were still able to find the bargains).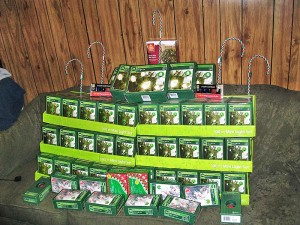 New Lights For Christmas 2010
We plan to add roughly 13,000 more lights next year bringing our total to somewhere around 30,000*, adding some color to the house, and a special addition we think everyone will really love.
So once again, thank you all for such a wonderful season. We hope you had a wonderful Christmas and that the new year is filled with many blessings for you and yours!
We'll see you in October for the Halloween display!
Peace,
Kim & Phil
*
– Clark Griswald only had 25,000… But who's counting?