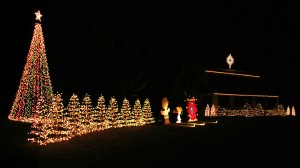 This page has not been updated for 2010/2011/2012 yet… It will be soon (probably…).
Wilton Lights is a Christmas Light display in Wilton, Maine, put together by the Hilton Family and InterFix Communications.
The lights are animated by computer and synchronized with music. The music can be heard by tuning your car radio to 96.9 FM when you are nearby.
Preparation for the display begins as soon as the after Christmas sales start the previous year and continues through the summer. The animation sequence programming is done months ahead of time. This is truly a family project which requires a lot of careful planning.
Note: Some of the these stats are more up-to-date than what you hear on the radio station messages. We will update those for next year.
If everything is turned on at once the display would draw more than 62 amps of power. The 6 foot tall star on the roof draws 10 amps alone, and the 21 foot tall "mega-tree" consists of 9,821 lights and can draw up to 37 amps in total, but to save on costs we never allow it to use more than 25 amps at any given time. The star on the top of that tree is 2 feet tall.
There are nine 5 foot tall wire trees with 350 lights each.
The 6.5 foot wide wreath on the side of the garage has 1,100 lights (400 red, 400 green, 300 white).
In total, the display has 17,128 lights on 48 individually controlled circuits, and uses a little more than 1,200 feet of extension cords. We have 5 circuits in the breaker panel dedicated to the show.
The display is scheduled to run from 5 to 9:30 PM December 10th 2010 to January 6th 2010, but may start earlier for testing and bug fixes.
A quick note to the media: If you are planning to mention this display on TV, radio, or in a print publication, please warn us so we can prepare for the increase in traffic which follows.
You can find the display at 1228 Main Street, Wilton, ME – just a mile off of routes 2 and 4. You can find directions at Google Maps.